In diesem Workshop zeigt euch der Techno Artist Heerhorst, wie man in Ableton Live eine Technotrack von Anfang an produziert. Im zweiten Teil gibt Heerhorst einen Einblick in seine bereits veröffentlichten Tracks und steht für Fragen rund um's Techno produzieren zur Verfügung.
Im Workshop wird die Software Ableton Live genutzt. Alle Themen sind aber ebenso auf alle anderen DAWs wie Cubase, Logic, FL, Studio One u.s.w. übertragbar.
Über Heerhorst:
HEERHORST is the new alias of Bastian Heerhorst.
Born and based in Hamburg, Germany, Bastian started making music in 1995 with the Amiga Pro Tracker.
Under his alias "Fukkk Offf", Bastian toured the World for more than ten years. Asa well known producer, whose tracks got played by artists like Moby, he remixed Rammstein, Icona Pop, Jan Delay, T. Raumschmiere, Oliver Huntemann and many more.
In 2017 Bastian began to explore new soundscapes in the Techno genre under thehat of his own name. His music is a blend of styles and influences which span acrossgenres from pure Techno to Melodic to Industrial darkness.
He devoloped his own, unique style and performs his productions as a live act or as a DJ.
With plenty of releases on major labels of the scene like Octopus, Stil vor Talent, Tro-nic, Set About, Beatfreak, Pursuit, Tiefblau and Riot, within only the first year, soon the name recognition spread like wild fire with active support by World renowned artists such as Wehbba, Julian Jeweil, Ramon Tapia or Mario Ochoa.
With collaborations and remixes including Teenage Mutants, Citizen Kain, Andre Win- ter, Maksim Dark, Modeplex, I Am Bam and many others HEERHORST quickly beca-me recognized by many and is ready for next chapter.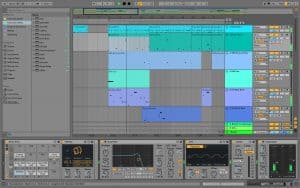 Du lernst in diesem Workshop
Produzieren eines Techno Tracks von Anfang an

Einblicke in die Produktionen des Artist Heerhorst

Zeit um Fragen rund um das Techno produzieren zu stellen
| | |
| --- | --- |
| Datum | 30.03.2019 |
| Uhrzeit | 11:30 – 16:30 Uhr |
| Ort | Dehnhaide 55, 22081 Hamburg |
| Teilnehmer | mind. 6 bis max. 16 |
| Preis | 89,00 € |